Job opening: — Retreat Manager
Our Ananda Meditation and Yoga Retreat near Pune has an opening for a Retreat Manager. The role involves managing the day to day activities at the retreat which includes guest relationship, overseeing the housekeeping and maintenance of the facility, overseeing retreat readiness for events and group workshops as well as actively carrying out promotional activities.
This is also an opportunity for one to deepen their meditations and spiritual life, interacting closely with Ananda acharyas and long-time Kriyabans, living close to nature in pristine surroundings on this sacred land filled with Swamiji's and the Master's vibrations.
Key Requirements:
Pleasant and Friendly personality
Attunement to a spiritual path. A dedicated member of Ananda would be preferred
Fluency in Hindi and English with Good communication skills
Proficient in working on computer, e.g. Email
Excellent communication skills
Superior organizational skills
Strong time management skills
Experience in guest relations management, hotel management or similar role will be preferred
Key Roles and Responsibilities:
Guest relationship management which includes

responding to guest's queries which are received through various channels such as email and phone
providing the best guest service experiences for guests all the way from enquiry through their stay
inform guests of our retreat services, including breakfast and dining options
recommend local pilgrimage spots for sight-see
promptly address guests' requests, actively listen to and resolve any concerns / complaints
Supervise other staff/personnel and manage retreat operations which includes

ensure guests are properly greeted upon their arrival
monitor daily bookings and ensure assigned rooms are prepared prior to check-in
oversee check-in and check-out procedures, including reservations and financial transactions
examine daily duties, assign tasks and check on progress
ensure housekeeping and maintenance of the facility to ensure an overall comfortable guest experience
maintaining the inventory of retreat assets
Promote all retreat program offerings
Keeping Retreat management updated with reports on retreat performance which includes:

guest bookings, cancellation, guest experience
analysis of customer feedback from guestbook and online reviews and suggest ways to improve ratings
on-site financial reports
inventory reporting
pipeline of bookings for individual, group, event bookings
Compensation
We can offer a modest salary along-with free Accommodation & Food (includes spouse and children only).
Beyond financial compensation, this is one of the few places in India where devotees can live and work in such an immersive experience of Master's teachings, with "job, temple and home" in one place. We have group meditation and 3 group meals every day, and countless opportunities for selfless service and spiritual growth.
Here at Ananda we value dedication, sincerity and a spirit of joyful service above all.
About Ananda
The Ananda meditation and yoga retreat situated in the peaceful countryside, in the beautiful Sahyadri foothills outside Pune. The retreat includes the only house and garden in India which were designed and built for Swami Kriyananda, and then infused with his spiritual vibrations during the three years that he lived here. Guests come from all over the world to experience the peaceful atmosphere, explore the teachings of Paramhansa Yogananda, and nurture their spiritual lives.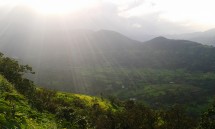 At Ananda Yoga Retreat you'll find:
Simple and clean residential rooms, which you can share or have all to yourself
Three home-cooked vegetarian meals a day
Nature-trekking opportunities from your doorstep: climb a mountain, or walk to a river
An extensive library of Yogananda's teachings: borrow and read from any book(s) that interest you
Resources and support for introspection, seclusion, and other spiritual practices
Two group meditations, periods of spiritual discussion and other activities offered every day
A live-in acharya (spiritual teacher) to answer your spiritual questions
Personal Instruction in meditation, yoga, healing techniques, and more (inquire for details and availability)
A break from the frenetic lifestyle, noise, crowds and pollution of typical city life
New friendships with like-minded people.
Do you feel even a little inspired to explore this possibility? Or do you know someone who might be a good fit?
If so, please send in your CV to sundeep@anandaindia.org