Join us for all or part of a very special Christmas Retreat, from 21st – 25th December.
Nayaswamis Jayaji & Sadhana Devi will host the all-day Christmas meditation, with the other portions hosted by Brahmacharis Jemal, Devendra & Premdas as well as Acharya Dharana.
"Christ is only suggested in social Christmas festivities, but He is seen and felt as an everlasting, ever-joyous fact in the cradle of divine ecstasy. Make the unknown Christ known within yourself by seeing Him born a second time as the ever-new, ever increasing joy of your daily deep meditation."  – Paramhansa Yogananda
Christmas falls on a Tuesday this year, so a full Friday-Tuesday retreat might be longer than many people could manage. Accordingly, we've decided to do something a little different this year: come for as much of this retreat as you can manage, and we'll charge you only for those days, with a simple daily rate. As always, the Sunday Christmas meditation is completely free of charge.
We'll celebrate the spiritual Christmas on Sunday, 23 December, with the annual 8-hour meditation. The All-Day Christmas meditation is a tradition Paramhansa Yogananda started in 1931 as a time to worship God as expressed through the life of Jesus Christ, and to expand our awareness of the Christ Consciousness in our own souls. The 23rd is the very day that Yoganandaji chose for this blessed "spiritual Christmas" celebration. For nearly 50 years, Ananda has held their 8-hour meditations on this day, in communion with Yogananda disciples all over the world. This will be the third Christmas meditation held in our all-new "Temple of All Religions."
We'll also celebrate the social Christmas, expressing and sharing that joy of the birth of Christ, through hiking, games and more! Don't miss it!
Accommodations & Rates:
| | |
| --- | --- |
| Room Type | Rate |
| Fully furnished | Rs 1500 / person / night |
| No room: Day use fees including classes, lunch & chai | Rs 600 / person / day |
Price Details:
The retreat will go from Friday, Dec 21st, through the festive brunch on the 25th, at a cost of Rs 1,500 / person / night. Children below 6 are free, from 6-12 they're half price, and from 12 onwards they're full price.
All are welcome to the all-day Christmas meditation free of cost.
For more information on Accommodation and reservations contact:
retreat@anandaindia.org or call 9011069792, or 7066028051
Schedule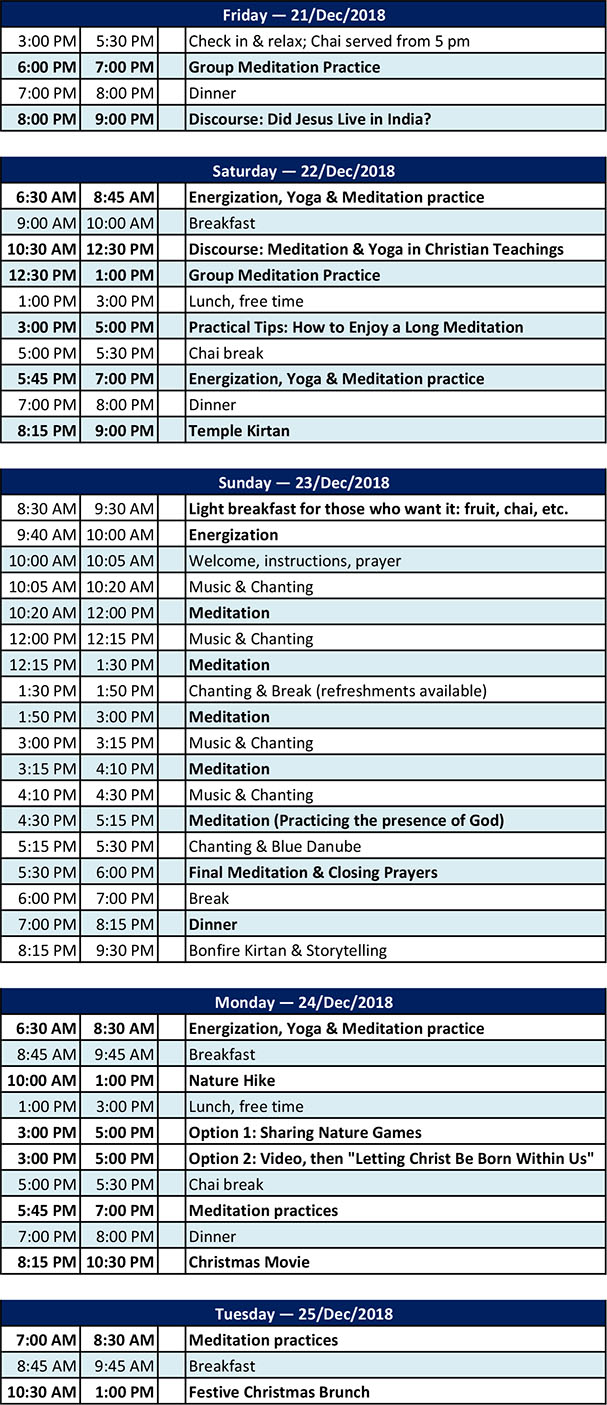 About the Presenters:
Bhramachari Jemal has been a part of Ananda India since 2005, leading the Ananda monks here in India for most of that time. He's also given lectures and classes throughout India. Currently he's in charge of Ananda's Kriya Home Study program, where he works with students throughout India, assisting them to prepare for receiving Kriya yoga.
Acharya Dharana served in Ananda Palo Alto (USA), Ananda Assisi (Italy) and Ananda India, before becoming the sole resident Acharya at Ananda Kriya Yogashram in 2015. Dharana views and presents the eternal truths of yoga from a scientific perspective, due to his education and career as a silicon valley engineer. Dharana has been meditating regularly for 28 years.
Brahmachari Devendra has been a disciple of Paramhansa Yogananda for over 13 years. He joined Ananda Sangha as a monastic with blessings of Swami Kriyananda. He has taught classes on meditation and health in all major cities of India, also in corporates and abroad in Singapore, Dubai, and China. He is a  flower essences practitioner and loves music and nature.
Tips for the meditation:
Come on time to participate in the energization exercises and to be in place for meditation.
Eight hours might seem like a long time, but if you sit still right away you can go deep into meditation, and beyond time and space. Almost universally the time passes far too quickly. Periods of chanting can help you dive more deeply within.
Be inward, move as little as possible, even during the chanting periods. Let the chanting take you more deeply within; don't treat them as "breaks" but rather as a continuation of your experience of Christ within.
Chairs are provided or bring your own meditation gear for floor sitting including a shawl or sweater. (Malas, aum boards, and earplugs if you use them.)
Come for as much as you are able, leave when you need to. If you can arrange to leave at a break or chanting/reading, that would be serviceful to those around you.
Dress in comfortable QUIET clothing—please no clothing that rustles loudly (nylon, etc.)
Water, tea, fruit and light food will be available as needed.