5 – 8 September, 2019
with Brahmachari Jemal and other monks, Acharya Dharana and Parizad Mazda
"The soul loves to meditate, for in contact with the Spirit lies its greatest joy. If, then, you experience mental resistance during meditation, remember that reluctance to meditate comes from the ego; it doesn't belong to the soul."  —  Paramhansa Yogananda
Meditation is one of the most natural yet profoundly rewarding of all human activities. Meditation not only reduces stress and improves physical and emotional well-being, it can help you be more focused, productive and calm regardless of outer conditions. Meditation can help you directly experience the divine realities within — the peace, joy and divine love that are your true nature. While its original and highest purpose is to help us awaken our spiritual nature, the benefits to body and mind are well established by medical research.
Learn to relax your body, calm and concentrate your mind, awaken intuition and experience greater joy, mental clarity and creativity in your daily life. This retreat includes in-class practice, tips on establishing your practice at home, written instructions, an unlimited (no-charge) re-take policy, and ongoing support through email or WhatsApp for any questions that may come up in the future.
In this retreat you will learn:
The true yogic meaning of meditation
Why, how, when & how long to meditate
Three effective methods for achieving the state of meditation
How to sit comfortably for long and deep meditations
The three levels of consciousness, and how to enter them
How to live your life in greater harmony with all
How to quickly recharge your body with vitality and life-force
How to gain greater control of your personal energy and magnetism
The core essentials from Patanjali's Ashtanga Yoga, plus Shankya & Vedanta
The traditional paths of yoga and how to apply them
The value of prayer, chanting, and devotion in deepening your meditations
Whether you're interested in managing stress, finding peace, increasing your concentration or exploring spiritual realms, you'll benefit from this retreat. Experienced instructors and an immersive, peaceful environment allow for greater depth of study and understanding, with time for individual questions and in-depth exploration of the topics.
This retreat is based on the teachings of Paramhansa Yogananda, the great master of yoga, best known as the author of Autobiography of a Yogi. Kriya yoga is the core meditation technique practiced and recommended by Yogananda, and this course is intended for those who are eager to not only learn meditation, but also to go on towards receiving initiation into Kriya Yoga. In this context it covers the first two steps in a 4-step series of courses preparing people to receive that initiation. These courses are offered regularly in Pune, Mumbai and at other Ananda teaching centers, and also offered online through the Kriya Home Study coursework. This immersive (and intensive!) three-day course covers the same material which is typically shared over six weeks of classes, more or less. We offer this special course only twice a year.
This retreat is open to all, and especially to participants and graduates of the Kriya Home Study program, regardless of where they are in their individual studies. While much can be learned online and through telephone contact, in-person lessons with follow-up questions and answers is surely the most effective means of really learning, and this retreat provides an opportunity for this invaluable contact.
For Kriya Home Study participants who've already gone beyond the basics mentioned above, there will be time for in-person consultation and instruction to help clarify their understanding of all that they've been reading on their own, and take their next steps forward towards receiving or deepening their individual Kriya practice.
Contact:  +91-9011069792 or +91-8007108691
or write to retreat@anandaindia.org for questions or reservations

Fees:        ₹5000/- per person (includes shared accommodation, meals & course book)
Venue:     Ananda Meditation Retreat @ Watunde, outside Pune
Limited Accommodations Available – Book soon to reserve a place!
About the instructors:
Acharya Brahmachari Jemal has been a part of Ananda India since 2005, leading the Ananda monks here in India for most of that time. He's also given lectures and classes throughout India. Currently he's in charge of Ananda's Kriya Home Study program, where he works with students throughout India, assisting them to prepare for receiving Kriya yoga. Jemal has been meditating regularly for 16 years.
.
Acharya Dharana served in Ananda Palo Alto (USA), Ananda Assisi (Italy) and Ananda India, before becoming the primary Acharya here at the Ananda Meditation Retreat in 2015. He first began teaching in Italy, where Swami Kriyananda made him a minister, and has offered numerous classes in Italy and India. Dharana views and presents the eternal truths of yoga from a scientific perspective, due to his background as a silicon valley engineer. Dharana has been meditating regularly for 28 years.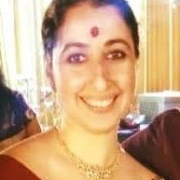 Parizad is a certified and experienced Ananda Yoga and Meditation Teacher. She is a Kriyaban, a long time spiritual seeker and meditator. She specialises in Holistic and Integrative Medicine and acts as a Psychologist, Spiritual Counsellor and Guide to those in need of healing and guidance, based on universal principles. She is also a practising Evolutionary Astrologer which charts the map of every soul's evolutionary path and life intentions.  She is also a devout nature and animal lover and enjoys hiking and nature photography.
Detailed Schedule: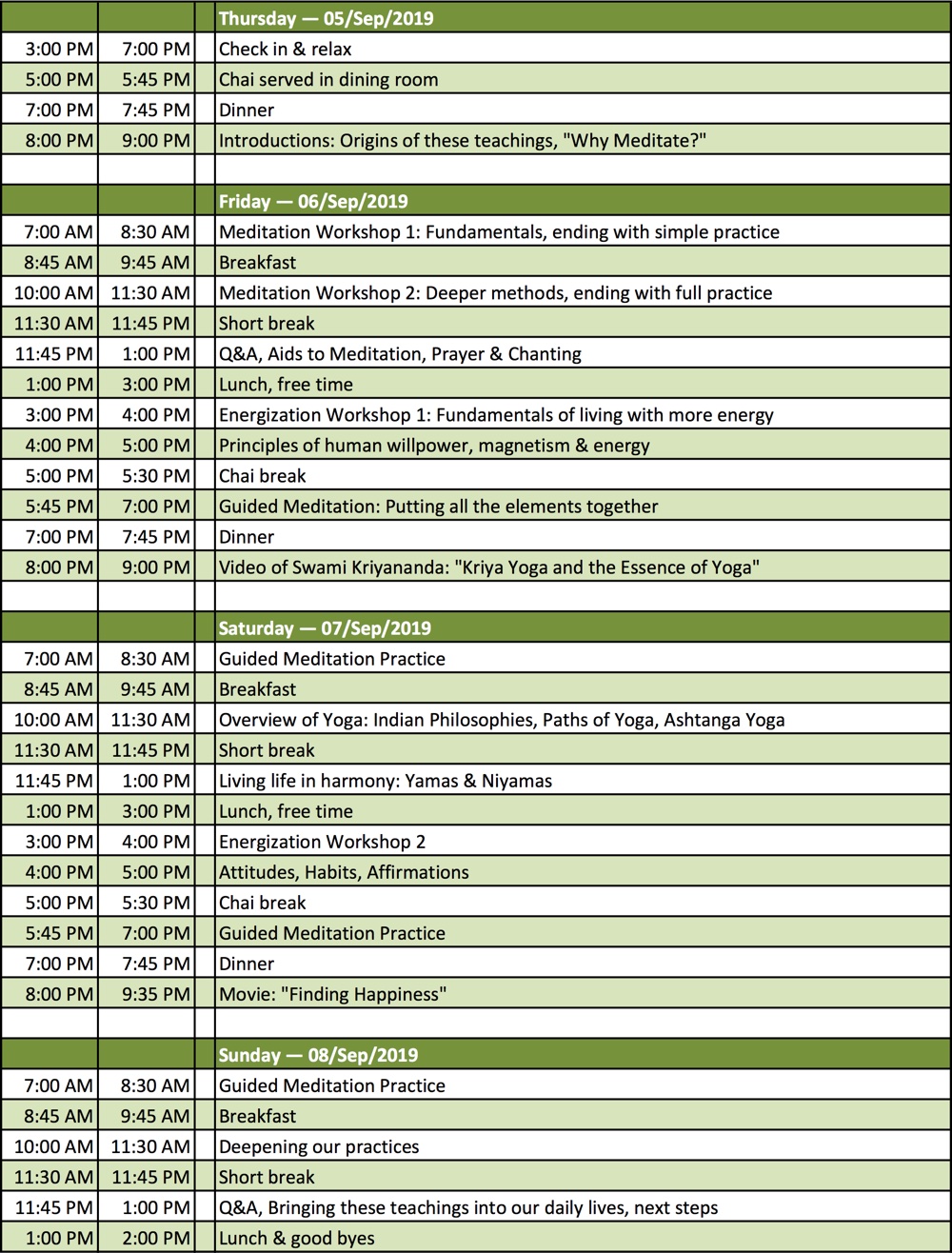 Testimonials:
"I thank you with all my heart for taking me through the path to meditation laid by the great Gurus. Your selfless sharing and devotion has touched me deeply. Our conversations would remain with me for my lifetime as a very cherished memory. I have never met a teacher with so much commitment and patience towards a learner." 
—A.R., Pune
"I am really delighted to take my 1st step in spiritual awakening world! The ashram is best place to leave all your day-to-day worries, rejuvenate & go back to your day-to-day activities full of energy." —A.J., Pune
"I arrived at Ananda not having heard of it before. It was a sweet surprise! I feel like I opened a door that will take me a long way. I have been introduced to meditation and to Yogananda teachings and I feel like I finally found what I really needed. Thank you for everything!!" — A.M., Italy
"Freedom is God, and this is what brings me here, complete freedom. This place has given a choice to be in my own space & be myself. I dwell in peace, calm & above all a part of nature. I am able to connect to God & myself. I thank you all." — P.C., Mumbai