5-9 June, 2019
with Nayaswami Kriyacharyas Jaya, Dhyana, and Devarshi
"It is not your passing thoughts or brilliant ideas, but your everyday habits that control your life." — Paramhansa Yogananda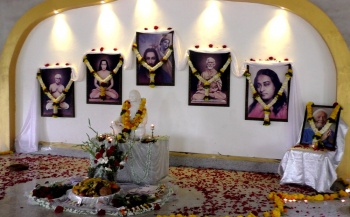 It follows from this wisdom that how much spiritual progress we'll make in this lifetime will be determined by our everyday spiritual practices, much more so than our spiritual inspirations or experiences, no matter how deep.
While Yogananda referred to Kriya Yoga as the "greatest key to salvation,"  and also called it "the jet airplane route" to God, merely having this technique is very different from having a deep everyday practice of it.
In this special 4-day (Wednesday evening thru Sunday Lunch) retreat, we'll focus on improving our daily practices, to help each of us towards the greatest spiritual attainments we can achieve in this lifetime.
Prerequisites: this course is open to all initiates in the Paramhansa Yogananda lineage of Kriya Yoga.
Contact:      +91-9011069792 or write to retreat@anandaindia.org for reservation
Fees:            Full Duration : ₹6000/- per person (includes accommodation and meals)
.                     Day Use Only : ₹600/- per person per day (no room)
Venue:         Ananda Meditation Retreat @ Watunde, Pune
Limited Accommodations Available – Book soon to reserve a place!
The classes will focus specifically on:
Devotion: the most important ingredient in our spiritual practices
Inspiration: how to keep our practices fresh and meaningful for the rest of our lives, despite the distractions and challenges that will surely come along.
Right Attitudes for Success in Kriya Yoga
Signs of Spiritual Progress for the Kriya Yogi
The Techniques: fine-tuning all our practices, including:

Posture: the essential physical foundation for any good meditation
Diaphragmatic breathing: essential for practicing Kriya deeply
Hong-Sau: improving our ability to focus our minds will improve our Kriya practice, and all other aspects of our lives
Energization: increasing our awareness and control of our life force is one of the most valuable things we can do to improve our Kriya practice
Aum technique
Kriya technique, including time for individual kriya checking
An introduction to Kechari Mudra: what it is, how to do it, and why Lahiri Mahasaya taught it with Kriya
Hong-Sau in the spine, Navi Kriya and others – and when to best fit them in

Questions and Answers: through these sessions we'll have time to address whatever issues are individually holding you back in your spiritual practices.
About the Kriyacharyas:
Nayaswami Jaya is a founding member of Ananda Village where he served for many years as Community Manager.  In 2002, he helped establish an Ananda Center and Meditation Retreat on the East Coast of the US.  Four years later, at Swami Kriyananda's request, he and his wife, Nayaswami Sadhana Devi, shifted to India where he now serves as co-Director of Ananda India with Nayaswami Dhyana. He's been serving as a Kriyacharya since 1989.
Nayaswami Dhyana met Swami Kriyananda in 1980 and has since helped in the founding of several Ananda communities and centers. She is the co-Spiritual Director of Ananda India, and travels and lectures extensively, helping to support Ananda India's communities and centers. She served as leader of Ananda's Kriya Sangha for 14 years, and has been serving as a Kriyacharya since 2005.
.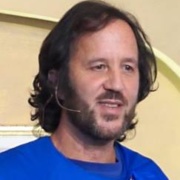 Nayaswami Devarshi was leader of the Kriya Sangha for many years, and is a long-time Ananda teacher. He's served the Ananda communities in Seattle, Assisi, and Ananda Village. He has taught throughout the United States, as well as in Italy and Moscow. Devarshi also served on Swami Kriyananda's personal staff for seven years and as Webmaster and creator of Ananda's award-winning website. In 2016 Devarshi shifted to India to lead the Ananda monks.