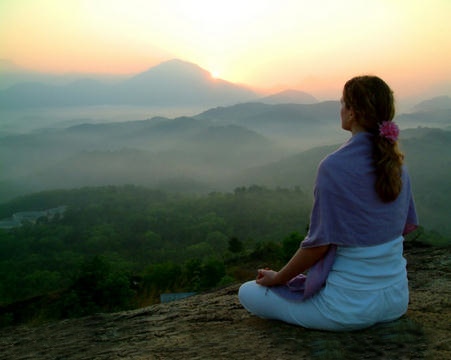 With Nayaswami Dhyana, co-director of Ananda India
and Latha Gupta, leads Ananda School of Yoga in India
"Silence is the altar of Spirit," said Paramhansa Yogananda. The first experiment toward knowing oneself, therefore, begins in silence.
Life is a busy whirl of "doing" and in all the doing we often forget the "being". We forget what it is to live in true joy, true peace, true love… not merely as an outcome of fortunate circumstances but as a conscious unfoldment of our natural way of being.
This silent retreat will help us connect with our forgotten or hidden Self. We will have two and a half days of deep inspiration through immersing ourselves in spiritual practices, inner conversations with the Divine, uplifting satsangs and more. It is a time to renew our self, to listen and respond to the call of our common Father.
To paraphrase the words of Yogananda, in our silence, may God's silence cease.
We invite you to join us on this journey of self-discovery. It will be fun and entertaining. We'll never know how much God loves to play with us until we go within!
Rates & Online Booking
The retreat cost is Rs 5,500 per person for a shared room, all-inclusive.
For more information on Accommodation and reservations contact:
retreat@anandaindia.org or call (+91) 9011069792, or 7066028051
Book Online
Please contact us to confirm availability before making payment
Nayaswami Dhyana met Swami Kriyananda in 1980 and has since helped in the founding of several Ananda communities and centers. She is the co-Spiritual Director of Ananda India, and travels and lectures extensively, helping to support Ananda India's communities and centers. Nayaswami Dhyana is a Kriyacharya, authorized to initiate devotees into the sacred practice of Kriya Yoga.
Latha is passionate about inspiring students to deepen their practice and learn yoga in a safe and enjoyable way. A Yoga Alliance certified Ananda Yoga teacher with over a decade of teaching & practicing, and a certified Coach from the International Coach Federation (ICF), she brings a very encouraging and practical approach to her classes.
Friday 26 January
5:00-7:00 pm
7:00
8:00

Sadhana
Dinner
Opening Satsang
Saturday 27 January
6:00-7:30 am
7:30-9:30
9:30-10:00
10:00-11:00
11:30
1:00 pm
2:00-4:30
4:30-6:00
6:00-7:00
7:00
8:00

Energization and Yoga
Meditation
Walking Meditation
Breakfast in Silence
Talk by Master, Journal Writing
Lunch in Silence
Free Time
Energization and Yoga
Meditation
Dinner in Silence
Evening Satsang
Sunday 28 January
6:00-7:30 am
7:30-9:30
9:30-10:00
10:00-11:00
11:00
1:00 pm
+ Google Calendar

Energization and Yoga
Meditation
Walking Meditation
Breakfast in Silence
Purification Ceremony and Goodbyes
Optional Lunch