I've been given the happy opportunity to write a spiritual blog for the Retreat. And the request included such a delightful topic to begin with!
For guests often tell us that they feel a sense of peace, contentment, and upliftment on our land, surrounded as it is by lovely mountains and valleys. And that their stay has refreshed them so they're readier to return to their everyday lives.
They rarely use the term harmony with nature when they comment on what appeals to them at our Retreat. But, as one of Swami Kriyananda's many song lines goes in another context — "the words we used were different, but joy one understands".
Did you see the recently released film about Ananda, Finding Happiness? If so, you may have noticed several allusions to harmony in nature. Most of the film is shot at Ananda Village in mountainous northern California, which is now picturesquely beautiful. But some 40 years ago, it was just a hardscrabble farm.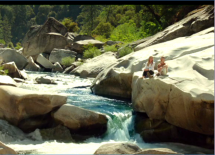 In the story line, a somewhat cynical journalist – Juliet — is sent on assignment from New York to do a story on the community. On her drive toward the Village, her Ananda guide David pulls to the side of the road to show her a spot alongside a rushing river. He tells her: "I love coming here after being in the city. It helps me connect with something much, much bigger than myself." Just breaking out of our 4-walled daily existence literally opens up vistas. Or perhaps it simply reminds us that they're there all the time if we're awake.
David continues: "What really moves me is just the sounds all around us. It's like a symphony of nature." His comment is all the more profound because in real life, David is a professional musician! If you've ever heard a symphony, you can appreciate his word picture comparing the sounds of nature to the symphony's amazing blend of many instruments of different types to make a single vibrant musical production.
Again in the film, harmony with nature comes up. During Juliet's introduction to Ananda's leaders Jyotish and Devi, she remarks on the beauty of the Village. Jyotish ties this in with the "special energy" that many visitors feel there … shared, he believes, by the wild animals. 
Here Devi offers a further fascinating insight: "We've lived here for so many years and there's been so much conscious harmony with nature that I think the land really has become sacred." To which Juliet finds herself agreeing only one day into her visit, "Yeah, it feels that way here".
Having lived both at Ananda Village and on our land here in the Pune countryside, I can echo Juliet half a world away: "It feels that way here too" — although much of our land is still somewhat primitive.
But so much has been accomplished in the short time the land has been ours. The Retreat is a chief example. It's a small haven of joy where – whether for a day, a weekend, or long-term – a unique experience of harmony with nature awaits. And you know what: that can carry over to harmony in all other aspects of life!